Trail mountain bikes
Trail bikes – the trail is the reward!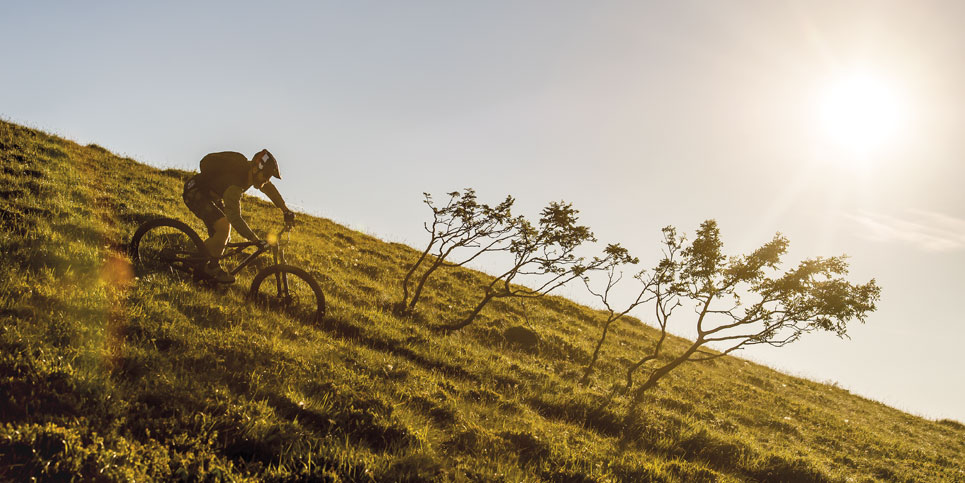 ALL-MOUNTAIN FUN FOR EVERYONE
Trail bikes are the fully suspended, universal geniuses among mountain bikes. They represent the essence of mountain biking, moving freely in nature, pure riding fun. They have a large spectrum of capabilities: They come with enough travel to master difficult downhill trails easily and are lightweight enough to climb fast as well. They offer thus a good combination of great riding qualities, which appeal to an extremely large group of mountain bikers. The development of the trail bike went hand in hand with the development of MTB sports. With the introduction of full-suspension bikes, the mountain bike was brought to a new level. Suddenly, a whole new world opened up, in which everything was possible. Trails that were supposed to be impossible before, now lost their threat.
Nowadays, highly developed rear stay systems read the ground seismographically, in order to allow for permanent ground contact and optimum control. Uphill, the systems are extremely drive-neutral and efficient, to make sure no power is lost. These bikes are actually little downhillers, disguised as tourers. Bikes that make almost everything feasible, with a huge range of use. At home in rough Alps terrain, on flowing upland trails or on your well-known home round. No matter, whether you decide for the GRANITE CHIEF or the ROOT MILLER the possibilities are endless. However, the two bikes are really quite different.
Whereas our ROOT MILLER with its 130 mm of travel and 29" wheels rather pleases touring-oriented bikers, the GRANITE CHIEF with its 150 mm of travel and 27,5" wheels offers even more agility and zippiness in its downhill performance. In the end, it is a matter of personal taste, which trail bike you like better. Both mountain bikes can be customised with our configurator. You can thus easily create your own bike, which brings you through the mountains safely and will share unforgettable experiences with you!
15 produkter
first
prev
1 / 1
last
next
15 produkter
first
prev
1 / 1
last
next