ROSE SOUL FIRE 1 27,5"
ROSE
Rose How To Bike Fitting - richtig vermessen
Beim Kauf eines Bikes ist es extrem wichtig die richtige Rahmengröße zu wählen. Mit der richtigen Vermessung findet man diese ganz leicht.
Fully-Setup leicht gemacht
Fully-Setup leicht gemacht
Die letzten Handgriffe am neuen Rose-Mountainbike
Die letzten Handgriffe am neuen Rose-Mountainbike
Desværre understøtter din nuværende browser-version ikke konfigurationsoversigten af din cykel. Venligst opdater din browser for at kunne se visuel feedback på din konfiguration.
Ordrenummer: 2236919
2236919
Tilgængelig om:
S, M, L og XL. Leveringstid
Valg af størrelse følger når varen er lagt i kurven.
Vægt basismodel:
approx. 16,4 kg, may vary by +/- 5% due to manufacturing tolerances, weight for Lime Green/Black frame, size M, without pedals
Komponenter
SOUL FIRE 27,5" , AL 7005, from approx. 3,4 kg
Rock Shox Yari RC Solo Air, 15x110 mm thru axle (Boost)
Sinringlé SRC hubs and Mavic EX 630 rims, 27,5"
Schwalbe Magic Mary Bikepark 27,5x2,35
Race Face Aeffect SL 34 Z.
SRAM GX1 1x11 langer Käfig
SRAM PC1130 11-fach
SRAM XG 1150 (10-42)
E13 TRS
SRAM GX Trigger, 11-fach inkl. Schelle
Shimano Deore BL-M615 200mm/200mm
Race Face Turbine, 400 mm
SDG Circuit MTN
Spank Spoon, 785mm, 20mm Rise
Ergon GA30
Rock Shox Kage RC
Spank Spike
Keine Pedale
Alu Spacer 10mm (2x5mm)
Produktbeskrivelse:
Enjoy speeding through the ROSE freeride world with the SOUL FIRE 1. Designed for high stability and quality, the fork bears a label of the excellent suspension specialist Rock Shox – it's a Yari Solo Air fork. This great enduro fork not only offers a travel of 180 mm, but also a convincing suspension performance including Motion Control damping and very good stiffness values. And it only weighs a meagre 2000 grams! The drivetrain, too, comes with clever components, The SRAM GX is a high-quality 11-speed shifting system that is of the same standard as its big brothers X01 and XX1. For all those who always wanted to ride with 11 gears and a top performance, the SOUL FIRE 1 will be a great partner for the bike park and freeride tours. The bike's cockpit comes from the company Spank. It looks good and is designed for best grip - what more could you want?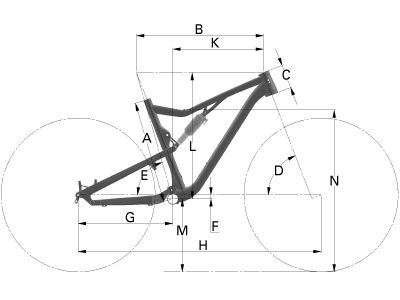 Stelstørrelse
S
M
L
XL
Kropslængde (cm) cirka
163-172
173-182
183-192
>192
S
M
L
XL
- Affjedring for
180
180
180
180
- Vandring bag
180/190
180/190
180/190
180/190
- Hjulstørrelse
27,5"
27,5"
27,5"
27,5"
- SAG indstilling Rock Shox %
30-35
30-35
30-35
30-35
- SAG indstilling Rock Shox mm.
21-25
21-25
21-25
21-25