ROSE GROUND CONTROL 1 27,5"
ROSE
Desværre understøtter din nuværende browser-version ikke konfigurationsoversigten af din cykel. Venligst opdater din browser for at kunne se visuel feedback på din konfiguration.
Ordrenummer: 2236690
2236690
Tilgængelig om:
XS, S, M, L og XL. Leveringstid
Valg af størrelse følger når varen er lagt i kurven.
Vægt basismodel:
approx. 13,2 kg, may vary by +/- 5% due to manufacturing tolerances, weight for matt black/silver frame, size M, without pedals
Komponenter
GROUND CONTROL, AL 7005, ab ca. 2,4 kg
Rock Shox Revelation RL Solo Air 130 mm, 15 mm thru axle
DT Swiss M 1900 Spline, 27.5", for Shimano
Continental Mountain King II 27,5x2,2
Shimano SLX FC-M7000 40/30/22 10-speed
Shimano SLX RD-M7000 SGS Shadow+ 10-speed
Shimano CN-HG54 10-speed
Shimano CS-HG50 10-fach (11-36)
Shimano SLX SL-M7000 triple/10-speed
Shimano SLX FD-M7005E triple/10-speed
Shimano Deore BL-M 615 180mm/180mm
Race Face Ride
ROSE Allround AL saddle
Race Face RIDE, 35.0 mm, 20 mm Rise
Ergon GA30
Rock Shox Monarch RT3
Race Face RIDE, 35.0mm
kein Pedal gewählt
Alu spacers 10mm (2x5mm)
Produktbeskrivelse:
Conquer the mountain – with the GROUND CONTROL 1! The bike's sophisticated geometry makes it perfectly suitable for all kinds of off-road adventures. To ensure that the suspension system can show its strengths, the GROUND CONTROL 1 is completely equipped with Rock Shox components. At the front, a Rock Shox Revelation RL Solo Air ensures a smooth ride. It comes with a 15 mm thru axle and 130 mm of travel. The Revelation shows a perfect compromise between weight and torsional stiffness, while offering great sensitivity. As it features the Motion Control DNA system, it offers soft damping and perfectly reacts to several compressions in quick succession. In addition, the bike comes with a Rock Shox Monarch RT3 rear shock. It controls 130 mm of travel at the rear stay, while reacting extremely sensitively and measures the ground like a seismograph. The Monarch RT3 comes with a larger air chamber for even more control and traction so that the bike won't even lose ground in sharp corners on on rough terrain.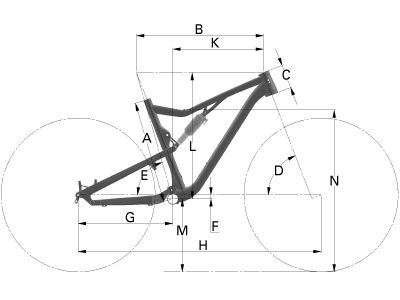 Stelstørrelse
XS
S
M
L
XL
Kropslængde (cm) cirka
<163
163-172
173-182
183-192
>192
XS
S
M
L
XL
- Affjedring for
130
130
130
130
130
- Vandring bag
115
130
130
130
130
- Hjulstørrelse
27,5"
27,5"
27,5"
27,5"
27,5"
- SAG indstilling FOX %
25
25
25
25
25
- SAG Indstilling FOX mm.
13
13
13
13
13
- SAG indstilling Rock Shox %
30
30
30
30
30
- SAG indstilling Rock Shox mm.
15
15
15
15
15
A - sadelrørslængde
435
450
475
500
520
B - overrørslængde
545
565
585
605
625
C - Kronrørslængde
100
105
110
115
125
D - Kronrørsvinkel
69°
69°
69°
69°
69°
E - siddevinkel
74°
74°
74°
74°
74°
F - BB Drop
-18
-18
-18
-18
-18
G - Kædestræberlængde